I swear, I will never buy another pair of sunglasses again... or at least expensive ones.
Because of the
scar on my cornea
, I usually wear sunglasses, even on cloudy days. Before you accuse me of trying to act too cool, realize that the scar on the cornea refracts light onto my retina in an uneven way which not only blurs the vision but distributes the intensity of light unevenly. It is no picnic.
The point, however, is that I usually need a good pair of sunglasses that polarize the light effectively. I bought a pair of Ferragamos in Japan back in the early 1990s. They were expensive but used good polarized lenses that prevented glare. Even though they were 30,000 yen (about $300), I had them for over twelve years so it was well worth the money when they finally broke around 2007.
Since then, unfortunately, I've bought and lost three pairs of sunglasses. First, a pair of Maui Jims, $200+ glasses that are really nice but used for only three of years. Then a pair of Ray Ban Wayfarers ($150) for another three. Then another pair of Wayfarers that I bought last summer.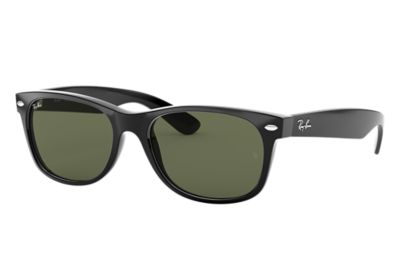 I lost these last week.
Well, after over $500, I will no longer buy sunglasses. If I can't take care of them, I don't deserve to own them. The scar on my cornea has changed shape over the years and so the glare is not as bad as it used to be anyway, so a nice pair of glare-proof sunglasses are not as necessary as before.
But I do love them so...